"COME, THIS WAY," SHE CALLED, "AND WE'LL HAVE AN ADVENTURE."​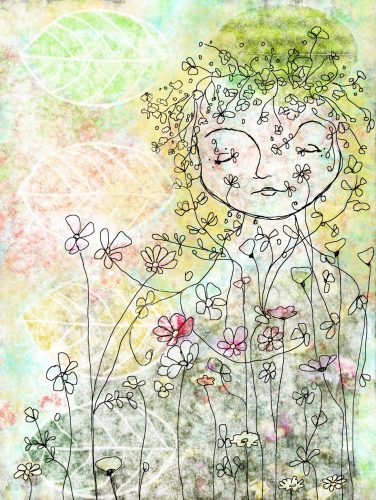 They knew her as Dream Girl, Child of Awe.  
She lived in the fields just outside town. Gardens surrounded her home, and beyond that a wall with a great door. You could find her balancing atop the wall and listening. Her bare feet felt for familiar stones, ruddy cheeks turned toward the sky.  
"Feel how soft the wind is," she'd say, "And how perfect the dog that barks in the meadow." 
By night, she lounged on her roof, braiding long blades of grass in the moonlight.  
Gatherer, they called her. They recognized the creaking of her metal pail as she roamed the village.  
She began early, collecting broken things and sticky things, golden, watery, and salty things. There was nothing she didn't inspect with both eyes and both hands. In it all, she saw the seeds of a story so sweet.
She carried her pail to the brook and rinsed her treasures in the chattering water. One by one, she'd bless them. "You shall grow into something beautiful, I think." 
With delicate earnestness, she delivered everything to her garden.  
They called her Farmer of Light, Shepard of Hearts. They knew her by the lute slung across her back.  
Standing over the garden, she cast pillows of sound. Light as the fairyfly, rich as chocolate, vibrant as autumn, her music drifted over the sleeping seeds in radiant rose and turquoise light. She sighed as the air around her dropped its heaviness.  
Her garden seemed a miracle, otherworldly but deeply familiar.  And if you listened closely, you could hear the seeds whisper their story.
She could stay like that forever, resting in this place of comfort and beauty. But life keeps on moving, and she would soon be drawn beyond the gate again.  
An Official Bio. (Choose Which You Like Best)
Ivy Junetree is an author and illustrator for children (and the young at heart). She writes about places where we are wild still, where our hearts are brave, our minds free, and our feet search for a trail to lead us to the wonder in the world. With tales of magic and adventure, she hopes to spark your imagination. Above all else, she believes there's a hero in everyone, big and small, that every heart knows its own way, and that our stories can change the world.
Homestyle tales With Lots of heart
I'm a working mom of three who writes and illustrates for grown-ups and kids. I've been writing for adults for a while (under my real name, Leslie Ralph), but having kids lit up a new desire to write children's books of my own.
My journey of writing for children begins with storytime. It started as reading the books on the shelf and evolved into an evening ritual of story time improv with my kids. Inspired by their imagination and creativity, I started writing stories every morning before work to share later that night, and I couldn't stop! Soon I had notebooks filled with stories.
Now, I'm sharing these stories with the big, wide world. I want to encourage kids (and grown-ups!) to explore their great, big ideas, too.
Made with 100% natural Daydreams
I create things for people seeking fantasy and fun, the ones who believe in magic and beauty and awe. They are the children (and the inner children), the dreamers, the keepers of the future.
In these pages, you'll find dancing fairies, sneaking bandits, moonlight adventures…all grown from a daydream and a scrap of paper. This, imagination and innocence, telling stories and creating art, is how we stay young at heart in a world that moves too fast. And that, Dear Friend, is how we'll leave the world a little brighter than we found it.
can you picture it?
My vision is a world where we've befriended life again, in all its wildness. Where we aren't afraid anymore, aren't fighting. One by one, we become soft wonderment. It starts small, but goodness does it grow.
and we've only just begun
Begin your adventure with these free gifts as part of my Insider's Club.
Stories to Spend the day in